A modern library offers more than just books to borrow. In fact, many libraries today have self-service features, and they rely on highly automated return and sorting systems. Supporting these logistics and automating time-consuming tasks related to handling books and other materials is a core business area for Lyngsoe Systems.
The challenge: Commissioning is complicated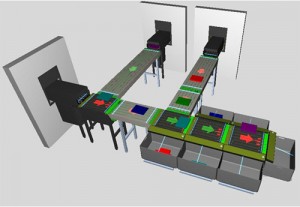 Books come in many different sizes—and the same goes for libraries. Library material handling systems must be capable of handling different types of materials while supporting various technologies, such as barcodes or RFID. A one-size-fits-all model does not exist within Lyngsoe Systems. Even though Lyngsoe Systems possesses field expertise, the commissioning phase of the project remains a challenge in every new or updated project.
To reduce commission time and avoid costly errors when installing a new material handling system in a library, Lyngsoe Systems tests their systems virtually using Experior, Xcelgo's software. A key feature of this software platform is the 3D modeling available for systems. Using a catalog of standardized library material handling system components, Lyngsoe Systems can build any new system in a few hours and display how the components work together under specific circumstances.
How systematic testing works in library material handling systems
The next phase involves the systematic testing of the PLC controls, which is where virtual commissioning comes into play. Lyngsoe Systems usually includes the following parameters in factory testing:
Test configuration, initialization, and specific customer settings;
Test PLC programs;
Test functionality;
Test various scenarios for error handling;
Test system capacity;
Mass test over long production runs;
The results: Better quality and shorter commissioning on-site
Running such tests gives the engineers at Lyngsoe Systems insight into the actual setup and helps them correct software errors prior to commissioning. These tests also make it possible for Lyngsoe Systems to adjust and reconfigure the system before transport and installation.
"By using virtual Factory Acceptance Tests, we can offer a cost-saving benefit to our customers. At the same time, creating multiple virtual systems allows us to standardize our PLC software at a high level due to the wide range of testing possibilities without the physical systems,"
says Martin Holten, Head of Product Development, Library Division, Lyngsoe Systems.
Running 3D models prior to installing a library material handling system has become a standard practice for Lyngsoe Systems. The time invested in virtual commissioning pays off in shorter on-site commissioning and faster ramp up.

Learn more about 3D modeling for automation systems or feel free to contact us if you have any questions.
About Lyngsoe Systems
Lyngsoe Systems provides logistics solutions designed to significantly improve customers' quality of service and competitiveness in the global market. Lyngsoe Systems has designed, installed, and maintained control and track-and-trace systems for more than 40 years, and it has installed than 3,200 systems in 60 countries worldwide.
Learn more about Lyngsoe Systems' solutions for library material handling.