Experior Conference 2018
On Oct. 30-31 in Ry, Denmark
Experior Conference 2018
The Experior User Group Meeting & Conference
On Oct. 30-31 in Ry, Denmark
The Experior Conference 2018 is a two-day Experior User Group Meeting & Conference held in Ry, Denmark on October 30-31, 2018. This is an excellent opportunity to learn more about Experior from Xcelgo's own developers and be inspired by best practices and new ways to utilize Experior from other users.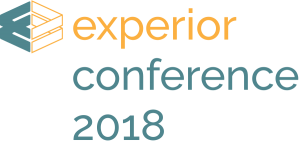 Agenda
Full agenda for Tuesday October 30

9.00 – 9.30 Registration and breakfast

---

9.30 – 9.40 Welcome

---

9.40 – 10.40 Implementing Digital Twin modelling at SMEs

Digital Twin Modelling Service for SMEs

Presented by: Bent Aksel Jørgensen, CEO of Xcelgo

Although many SMEs are keen to digitize their workflows, they often lack the time and resources needed to take the first small but necessary steps towards Digitalization. That's why Xcelgo offers to help SMEs in the implementation process by adapting work processes and software around the specific SME. In this presentation, Xcelgo will show how a sensible and stepwise implementation process that suits the specific company's situation ensures that the company develops the relevant skills and improves internal processes gradually.

The use of 3D modelling throughout the automation system lifecycle

Presented by: Klaus Waenerlund Kristensen, Area Sales Manager – System Integration at Riantics

At the Danish SME Riantics, Digital Twin modelling in Experior has become an integrated part of the company strategy, and today Riantics use 3D models throughout the lifecycle of the automation systems that they supply. Riantics will present how they use Experior and how they benefit from it; how the use of Experior has been gradually implemented in close collaboration with Xcelgo and how that process worked out; and what uses of Experior that Riantics want to implement in future and why.

---

10.40 – 11.10 Break

---

11.10 – 12.10 Integrated Engineering with Experior

Hybrid Emulator: Complete system test incorporating HLC and LLV emulation

Presented by: Søren Mikkelsen, SW System Engineer at BEUMER Group A/S

Both Low Level and High Level emulation of industrial systems have been standard practice for many years. BEUMER Group however have now begun using complete system tests that incorporate the interface between the two in a Hybrid Emulator. BEUMER Group presents how the Hybrid Emulator enables them to run and test the entire software package necessary to control a large airport baggage handling system in a single intercommunicating instance.

Using Experior as an engineering tool

Presented by: Philipp Klausmair, Head of Tools Development Controls at TGW Logistics Systems

Previously, TGW Logistics Group faced several work flow challenges, as they used as many as 52 different tools across the departments. In this presentation, TGW Logistics Group explains the process they went through to simplify the work flow and create better coordination between technical departments – a process where Experior played a major role as a multi-applicable engineering tool.

---

12.10 – 13.15 Lunch

---

13.15 – 14.15 University Research: Developing the factories of the future with Experior

Academic support for the industry in implementing virtual commissioning

Presented by: Jan-Kristof Chen, Research Assistant at Technical University of Munich

As their academic partner, TUM supported Brückner Group's transition to using virtual commissioning with Experior and opened their eyes for its profitable perspectives. The presentation is based on the work that was done between TUM and Brückner Group as a part of the IMPROVE project. TUM created a 3D model of one of Brückner Group's plastic processing machines in Experior and interfaced the model with different types of controllers as basis for virtual commissioning of the machine.

Academic research in using Experior to train machine learning algorithms

Presented by: Rudolf Schuster, Research Assistant at OWL University of Applied Sciences

You need a lot of data to train machine learning algorithms, and that amount of data is often very hard to get from real systems. At SmartFactoryOWL they found that the solution for this problem was to collect data by running simulations on a 3D model in Experior. OWL University of Applied Sciences will present how they use Experior to generate data to train machine learning algorithms. The algorithms are for instance trained to detect anomalies and localize them.

---

14.15 – 14.45 Coffee

---

14.45 – 15.15 Didactic Smart Factory Lab: Experior for educational use

The use of Digital Twins in the education of young marine and automation engineers

Presented by: Søren Hviid Junker, Associate Professor at Copenhagen School of Marine Engineering and Technology Management

Several technical schools are using Digital Twins as an important part of the education of automation engineers. At Copenhagen School of Marine Engineering and Technology Management, Experior is used in the automation education, as it provides the school with much higher flexibility in relation to mechanical configurations and number and sizes of the systems. Learn how the school began using Experior, how they benefit from using Digital Twins, and what future perspectives they see in Experior as educational tool.

---

15.15 – 16.00: Hands-on demonstration of Experior

---

17.00 – 19.00: Gin tasting at Denmark's only dedicated gin distillery, Njord Gin in Aarhus

When the first conference day is over, we've arranged for transportation to Aarhus, where we will visit Denmark's only dedicated gin distillery, Njord Gin, located in an old pumping station at the South harbour. Here we will learn about their gin making techniques and taste different high quality gins.

---

19.00 – 21.30: Three-course meal & wine at Madklubben Aarhus

After the gin tasting we'll walk along the harbor to Madklubben, where they will serve a 3-course menu that we've put together. During the dinner a wine menu consisting of bubbles, white wine and red wine will also be served. And don't worry – we've arranged for transportation back to Hotel Ry afterwards.

STARTER The Butcher's Board

Danish "Skagen" ham, "Havgus" cheese, chorizo, olives, pickled red onion and a rillette of free range pork with a honey / mustard mayo

MAIN COURSE Grilled and glased Free Range Pork

Sautéed Tuscan kale in truffle butter, pickled lingonberry, cauliflower puree, chicken sauce and toasted chestnuts

DESSERT Creamy Apple Sundae a la "Ævlekage"

Fresh apple compote, caramel, creamy vanilla ice cream, whipped cream and crunch

NOTICE: The food & wine menu is flexible regarding allergies and dietary restrictions, but please let us know ASAP via email: lam@xcelgo.com
Full agenda for Wednesday October 31

9.00 – 9.30 Light breakfast

---

9.30 – 10.30 Learning from the best

High Level Emulation of gigantic systems

Presented by: Christian Zehetner, Manager Development Emulation at TGW Logistics Group

As a leading systems provider of highly automated distribution and fulfillment solutions, TGW Logistics Group often delivers huge and complex systems. That means that their High Level Emulation process must support gigantic 3D models representing systems with miles and miles of conveyors. TGW Logistics Group will present the challenges they face when working with huge systems, and how they solve those challenges in the emulation process.

Automatic model generation: From 200 hours to one minute

Presented by: Allan Christensen, Head of SW Logistic Projects at BEUMER Group A/S

When BEUMER Group delivers their highly complex airport baggage handling systems, they are able to automatically generate the Experior model from project layout to completely configured Low Level, High Level and Hybrid emulation models. Learn how BEUMER Group integrated with Experior to the point where all emulation models are ready to be used by High Level control developers and PLC software developers in one single step.

---

10.30 – 11.00 Break

---

11.00 – 12.00 The Experior Roadmap: Experior 7.0

The development of Experior 7.0: Increased performance, new look and more

Presented by: Steen Hother Jensen, CTO of Xcelgo

Right now, Xcelgo's developers are working on a new and improved Experior – Experior 7.0. In this presentation, you can learn what to expect from the new version of Experior from Xcelgo's own developers, who will talk about how they are increasing Experior's overall performance and improving the user experience with a new high-end graphics rendering core, better 3D graphics, a new look with professionally designed icons and menus and a new license server.

---

12.00 – 13.00 Lunch

---

13.00 – 14.00 The Experior Roadmap: Long term perspectives

Future applications of Experior

Presented by: Steen Hother Jensen, CTO of Xcelgo

Learn what has happened at Xcelgo in the latest years and what the future hold for Experior and Xcelgo. Xcelgo's developers have several improvements in the pipeline and will present possible future developments of Experior with focus on applications all along the lifecycle of automation systems.

---

14.00 – 15.00 Questions, work-shop and mingling
Information
Address: Hotel Ry, Kyhnsvej 2, 8680 Ry, Denmark

Time: October 30th at 9.00 am – October 31st at 3.00 pm, 2018

Conference fee: EUR 300 per person. The fee includes registration fee for both conference days, breakfast, lunch and refreshments both days, and a networking dinner and social event after day one.

Accommodation: You can get a 25% discount at Hotel Ry, Kyhnsvej 2, 8680 Ry. Only a limited number of rooms are available, so book as soon as possible by phone: +45 86 89 19 11. Remember to ask for the Xcelgo discount.

RSVP: Please register as soon as possible or by September 17th at the latest via the link on the right.