APPLICATIONS
Learn more about the most important applications of 3D modelling that Experior supports.
Whereas previously 3D models where only used for simple simulations in the concept modeling phase, the Digitalization and Industry 4.0 have now given rise to the development of modern 3D modeling in new and exciting directions.
That is why, you need a versatile software that integrates all the different applications of 3D models in a one-stop 3D modeling platform – like Xcelgo's Experior.
Below you can learn more about the most important applications of 3D modelling that Experior supports. Use the navigation menu on the left to navigate to the different applications.
Virtual Commissioning
For low level Virtual Commissioning, a 3D model of an automation system is connected to a real PLC that will control the model as it would the real system. With the model you can thus perform numerous PLC tests, which will significantly reduce time spent on PLC programming and onsite PLC testing and ensure a higher quality in the control software.
A 3D model can also be used to perform virtual commissioning on high level, i.e. emulation tests of the IT-system (WMS/WCS). By connecting the 3D model to the IT system and exposing the model to different scenarios, you can test the IT system to debug it or confirm its performance.
In this regard, Experior thus excel in its scalability: It can be used to perform virtual commissioning of small systems at PLC level and of giant plants at IT level.
TGW Logistics Group, a leading systems provider of intralogistics solutions, reduces the commissioning time and costs by testing the PLCs and IT-systems on a 3D model in Experior, long before they go onsite. Read more here.
On the left, you see a 3D model of a giant distribution center with over 18 miles of conveyors – used by TGW for high level virtual commissioning.
BEUMER Group, a global leader in the manufacture of intralogistics systems, uses Experior for virtual commissioning of the PLCs and IT-systems.
Experior is integrated in BEUMER Group's product and project work flow, which means that their own staff now can build a new 3D model in less than 30 seconds – a process that required more than 200 hours before implementing Experior. Read more here.
The picture on the right shows a 3D model of a tire manufacturing system used by BEUMER Group for PLC testing.
Benefits
Efficient control software testing
Better software quality
Shorter onsite testing
Safer ramp-up of real system
Test of future upgrades prior to integration
Important features
1:1 real time model run
Expanded modelling scope
Detailed and realistic models
Integration with industrial communication means such as PLC control and WCS/WMS
Simulation
Simulations has been used for decades – usually handled by simulation experts in dedicated simulation software. Xcelgo deploys a new and more modern approach that shortens the development time, since the simulations can be used by the design engineers – not just the experts.
Generally, simulations have several different applications, of which we want to name the most important ones; system design simulation, physics modelling and multi body simulation, and mathematical simulation.
System design simulation can be utilized as a proof of concept for decision support by proving that the system meets customer requirements for e.g. inventory and capacity. The simulation model is also beneficial in the design phase where you can utilize simulations to achieve better solution design and reduced design time.
Riantics, a supplier of automation logistics solutions, uses simulations as a tool to prove their solution. The 3D models (see picture on the left) are based on real production data, system capacities and person capacities. The simulations will among other things demonstrate bottlenecks, accumulation needs and the required staffing of the solution. Read more here.
Physics modelling and multi body simulation typically require long computation runs at very well-defined modelling granularity. This calls for dedicated modelling with a potentially very high degree of detail. It is thus not real time – as required for PLC modelling – but often very long simulation runs, potentially overnight runs.
Mathematical simulation can be done both inside and outside Experior. As a modern development platform, Experior can interface with other modern mathematical software packages providing a modern API. The Visual Studio .NET platform and community offer a vast number of open source code, libraries, functions features to reuse code directly inside Experior, as plugin or add-on, API, or by means of modern interfaces.
Benefits
Support decision making
Design and analyze new ideas and concepts
Eliminate bottlenecks etc.
Analyze different systems configurations or solutions
Analyze and verify specific system design with respect to e.g. capacity, performance, capability
Important features
A balance between fast modelling, model scope, and sound detailing and granularity – depending on the objective
Fast simulation runs to analyze multiple simulation scenarios and deploy statistics analyses, e.g. run months of operation in minutes
Animations of a 3D model of the system can be used as 3D visualizations for sales presentations and project briefings to convey the story and demonstrate the system's functionality. The animations can be incorporated into power points, displayed at exhibitions, on the web page and sent to customers. In addition, it is also possible the customer to enter the plant before it is built – in Virtual Reality.
On the right, you see a sales animation of a Riantics Layer Picker Solution – build in Experior and exported to an external tool for better graphics, shaddows etc. Read more about Riantics here.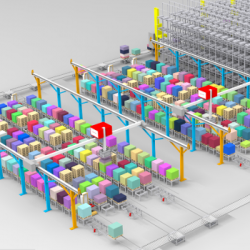 Benefits
Wow the customer with convincing 3D models
Show the entire system or specific functions
Build models fast without the need for simulation experts
Important features
Reuses elements from virtual commissioning models
Utilizes modern computer graphics such as high end graphics rendering, shadows, textures, virtual reality etc.
Experior exports system and animation events to external tool for high quality graphics
Operator Training System (OTS)
The 3D model used for virtual commissioning can be re-sold to the end-user as an Operator Training System. If modified with an educational scenario management tool, the model can be used to train system operators to operate the system and use the different user interfaces. The end-user can also use the OTS as a test setup to test different flows and evaluate possible upgrades to the system.
BEUMER Group delivered an OTS (see picture) to a large Chinese airport along with the real baggage handling system. They first used the 3D model for virtual commissioning and with a few modifications, the end-user can use it as an Operator Training Simulator. Read more here.
BEUMER Group has had 3D models in their product portfolio since 2014, when they delivered an OTS for Nanjing Lukou International Airport. BEUMER Group are thus on the forefront of what can become an important competitive parameter in the future, while they also project a high level of digital competence.
Benefits
Train operators and supervisors for fast and safe ramp up of operation
Train new operators and supervisors
Train operators and supervisors before transition to new operation modes and situations challenging the operation
Test for system optimization – increase performance, deploy new capabilities
Important features
Real user interfaces, control logics and user interactions embedded in the reused virtual commissioning setup
The model needs to reflect the physical system, the equipment, material, entities etc.
Educational scenario management to create training sessions with a structed learning curve
Ability to monitor how trainees are doing in order to document and improve training
Digital Twin
When the system is in operation, a Digital Twin can closely monitor the system and visualize it in 3D to give a perfect overview of its performance. The Digital Twin allows for detailed performance data analysis to evaluate the need for new schedules, system optimization or revision of workflows. Gartner has put the concept of Digital Twins on its Top 10 list of Strategic Technology Trends for 2019.
Together with a customer, Xcelgo has developed a Digital Twin of a portal gantry crane that enables the customer to perform predictive maintenance at a control center several hundred miles from the actual crane (see picture on the right).
Within the Digital Twin, the control center receives warnings and suggestions for contingency actions before problems arise, service support for which equipment is the problem, the location of problem, guide lines to solve it, repair instructions etc.
Benefits
Monitor and show the live status of a running facility
Get detailed insight in crucial areas, such as bottlenecks
Spot parameters to optimize to improve performance and reduce downtime, waiting time and unexpected integration effects
Important features
For a true Digital Twin in the loop you need the following three elements
Existing and running system/facility
3D computer model of the system/facility
Bi-directional communication between the two
The 3D models can be re-used for several different engineering tasks, such as cabling, emergency stop, WiFi, installation and commissioning. As a one-stop platform with broad applicability, Experior can thus bridge the gap between the different specialized teams who create models separately with different tools.
Earlier TGW Logistics Group had a substantial amount of different engineering tools. Since implementing Experior in their work process, they have now reduced the amount different tools and integrated their data flow. On the picture you see a TGW engineering tool in Experior. Read more about TGW's use of Experior here.
Benefits
Minimize the amount of engineering tools
Organize engineering knowledge
Bridge the gap between engineering teams
Important features
Integration of system data
Integration of project specific data
Integration with company workflow
A 3D model can be a powerful communication tool for the end-user as well. With a Viewer, the end-user can offer a virtual factory tour during presentations etc. With Virtual Reality technology it is even possible for the user to step inside the factory in a fully immersive experience.
The picture on the left shows a viewer of a TGW Logistics Group system.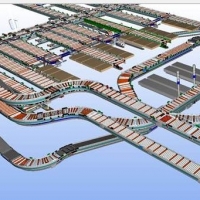 Benefits
Reuse existing 3D modelling elements to make dedicated models for a variety of tasks with numerous benefits:
Illustrate new facilities to different parties such as decision makers, future operators or visitors during presentations
Support service, maintenance, repair etc. with illustrative instruction and documentation
Show emergency run paths
Important features
A balance between fast modelling, model scope, and sound detailing and granularity – depending on the objective
Fast simulation runs to analyze multiple simulation scenarios and deploy statistics analyses, e.g. run months of operation in minutes