Is your company getting the most out of your engineering data?
Is your company getting the most out of your engineering data?
Today, data about automation systems often ends up stranded in fragmented information silos. But with the one-stop 3D modeling platform Experior, you can integrate and utilize engineering data throughout an automation system's lifecycle.
Designing, building and operating industrial automation systems are complex tasks, and engineers and technicians rely on huge amounts of data. Data management is thus a major challenge in the industry.
Most companies still work with numerous data sources and models. Specialized departments create models separately and analyze the data with their specific tasks in mind, which generates numerous information silos. The most current data is thus not always available, and crucial decisions may thus be based on an outdated foundation.
This fragmented way of working with data is costly and inefficient, and it creates uncertainty throughout the organization. There is a better and more efficient way of working with data and models.
From Product Lifecycle Management to System Lifecycle Management
You don't have to look far to find inspiration for such a workflow.
In the production industry, it has long been a best practice to collect and centralize all data associated with the life of a product and utilize the information through its entire lifecycle; from inception, through engineering and manufacturing to service and the eventual disposal of the product.
This central data management strategy is called Product Lifecycle Management. The integration of data, tools and processes related to the design, production and use of the product makes it easier to access useful information and knowledge in all phases of its lifecycle. This gives rise to numerous documented benefits, such as reduced time to market and improved product quality.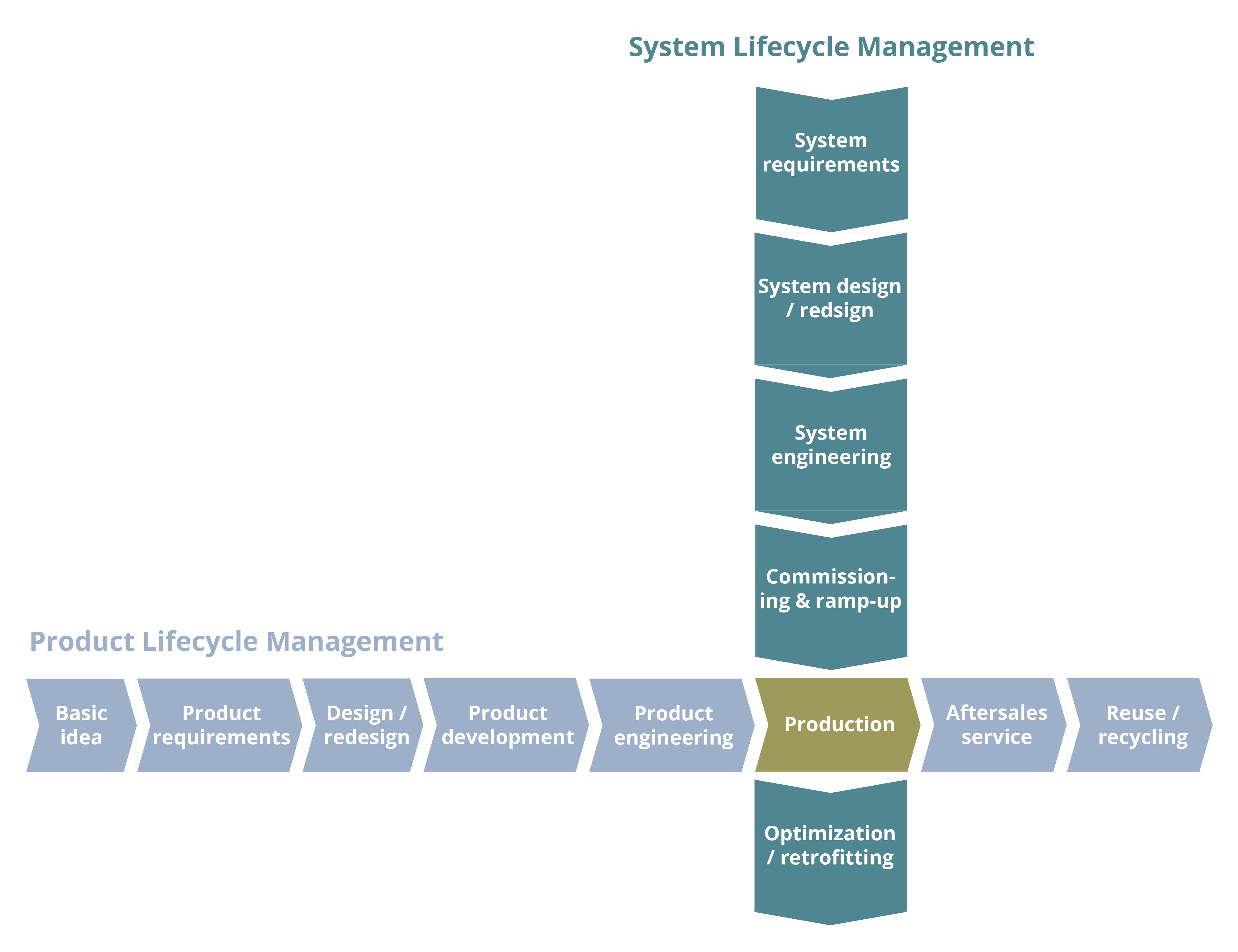 The same approach can be applied to the production of the product by working with automation system lifecycle management.
A one-stop platform for 3D modeling
Combining the Internet of Thing and the Product Lifecycle Management approach, all data about an automation system is collected and integrated in a 3D modeling software platform and utilized by different departments to develop useful 3D models. All within the same platform.
For instance, design departments can use 3D simulation models as realistic design prototypes, while the sales department can reuse the models as convincing sales visualizations.
Software engineers can test the system's control software on a 3D emulation model before it's commissioned, and thus reduce the commissioning time and improve software quality. This is called virtual commissioning.
When the system is up and running a 3D Digital Twin can monitor and visualize the system to provide early insights in potential problems, while an emulation model can be used to evaluate possible upgrades to the system or train new system operators.
And you can probably see many other applications at your own company.
The 3D modeling platform thus provides a one-stop platform and enables integrated data management – bridging the divide between the information silos.
A software platform for 3D modelling needs to be flexible to adapt all these model applications and intelligent and precise to represent a complex, modern automation systems accurately.
Xcelgo is an industry leading provider of 3D modeling software. Our software platform Experior has a powerful modeling environment that supports a wide range of industrial communication means and allows for integration of specific and detailed company workflow, project data and software code.
Learn more about our software platform Experior here and read about all the different applications of Experior here.